Fortrade's Pro Trader App Review: Features, Fees and Accounts

By

Andrew Moran
Published June 28, 2021.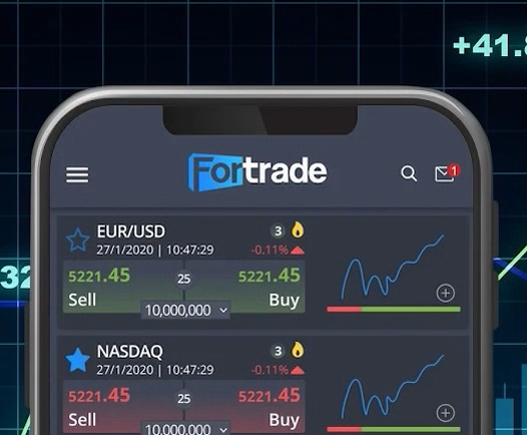 Are you looking for a trading application to invest in stocks, commodities, foreign exchange, and other securities? You might have been searching far and wide for a platform to utilize for all your investing needs. It might be time to take a look at Fortrade Pro Trader.
Features of Fortrade Pro Trader
Fortrade Pro Trader is a simple, easy-to-use app with powerful investing tools, real-time stock exchange prices, and regular updates. It allows users to trade forex, shares, and commodities and makes online trading accessible and flexible. Fortrade Pro Trader is compatible with all major devices, including the iPhone, iPad, and Android. It is the ultimate tool to manage an investment portfolio from the palm of your hand.
Free Forex Demo Account
The platform allows you to understand the tricks of the trade by allowing you to practice through a free forex demo account where you can trade commodities, shares, and CFDs in all major markets. The app also offers a step-by-step trading tutorial for its newest users.
User-Friendly Infrastructure
The key features of the infrastructure include its full-scale functionality, its simple and user-friendly interface, and a risk-free trading experience that is highly secure and trusted.
Huge Variety of Assets
Fortrade offers more than 300 financial assets, including currencies, indices, stocks, precious metals, energy products, agriculture products, and US treasuries. These products are from leading U.S., European and Asian markets. Fortrade offers excellent customer service and serves over 10,000 private and institutional traders worldwide. It is authorized and regulated by the Investment Industry Regulatory Organization of Canada (IIROC) and the Ontario Securities Commission (OSC).
Receive Bonuses
Users can sign up with opening deposits as low as $200. There are also some very interesting bonuses and promotions that can be availed. Best of all, these services are completely commission-free, making the platform a clear winner in this industry.
A Global Reach
Fortrade is a leading provider of innovative online trading solutions with a global reach. It has several partners across the globe that allow users to enjoy competitive rewards and a unique product mix.
Benefits of Using Fortrade
With Fortrade Pro Trader, users can access more than150 instruments, including over 60 currency pairs. You have access to major American and European stocks, indices, and most popular commodities. The outlet also enables users to remain up to date on global financial markets and derivatives.
Flexibility, Choices, and Easy Access
The celebrated app offers impressive flexibility and choices for traders and provides access to a variety of commodities, including crude oil, natural gas, silver, gold, and so much more. Of course, users also are given simple access to all major shares, stocks, and bonds (government and corporate).
Helpful to Beginner Traders
Fortrade is not only designed for expert traders but puts significant effort into helping new traders learn the ropes. The company's Online Trading Academy helps users learn more and trade better through its trading webinars, beginner and advanced trading courses, trading videos, top-day trading strategies, forex and CFD eBooks, and much more. There is a wealth of information available for those who are interested in understanding financial trading.
Easy Money Management
A big advantage of using Fortrade is that there are zero charges for commissions. Also, the trading platforms of Fortrade have widespread use offering advanced graphs, one-click execution, deposit and withdrawal of funds without leaving the platform, and overall simple and easy management and execution of your investments.
Device-Friendly
In addition, the Fortrade platform can be used from any device, whether it's your mobile phone, online browser, or computer. This enables users to trade from anywhere and anytime as long as they can connect to their accounts. There is no need to install any additional software when using the web version of Fortrade. All you need is an internet connection and a web browser.
Trading Tools
Users can also benefit from some excellent trading tools offered by Fortrade. You get morning and evening analysis, weekly analysis, and microanalysis. In addition, users can take advantage of different trading calculators, including a currency converter tool, margin percentage calculator, swap rates calculator, and pit value calculator.
In Summary
It has been designed to provide a simple yet powerful trading environment. Fortrade is useful for both beginners and experienced traders and allows users to trade 24 hours a day from anywhere they want - home, work, bus, train, or an Uber Timing is everything when it comes to financial trading. With Fortrade, users can easily monitor global markets and capitalize on price movements at the right time to take maximum benefit from their investment.
The Pros and Cons
Some of the pros of using this service include:
A user-friendly interface made for traders by traders.

No hidden fees, commissions, or deposits.

Ability to trade and manage your portfolio anywhere, anytime, and from any device.

Place instant orders with a fast response time.

Receive alerts and notifications regarding market and price movements.
Some of its cons include:
Withdrawals can take up to 15 business days.

Advanced traders may find the platform too basic.

Not suitable for traders interested in cryptocurrency.
Is Fortrade Right For You?
"There is an old traders' saying that says 'you've got to be in it, to win it.' This is also true of many other aspects of life, and often, our biggest regrets are the things we did not do. Had we not been willing to try, then Fortrade would not be where it is today. We aimed to offer the best in trading technology and customer service. Four years on, and we've enjoyed strong, steady growth thanks to our loyal and satisfied customers," the company wrote in a blog post.
Fortrade Pro Trader is an ideal investing app for new traders as it offers a user-friendly trading platform that you can access from any device at any time. From commission-free trading to news alerts to tutorials, the app possesses plenty of advantages for novice and veteran traders.
Overall, a strong UX platform, high-quality technology, a wide variety of products and services, swift market access, fast order execution, and commission-free training are some of the most important benefits of this platform. All this with trading tools and tutorials makes Fortrade the ideal choice for beginner traders and those who've been in this business for years.