How to Day Trade Without 25k

By

Andrew Moran

Edited by

Kelli Harris
Published November 30, 2021.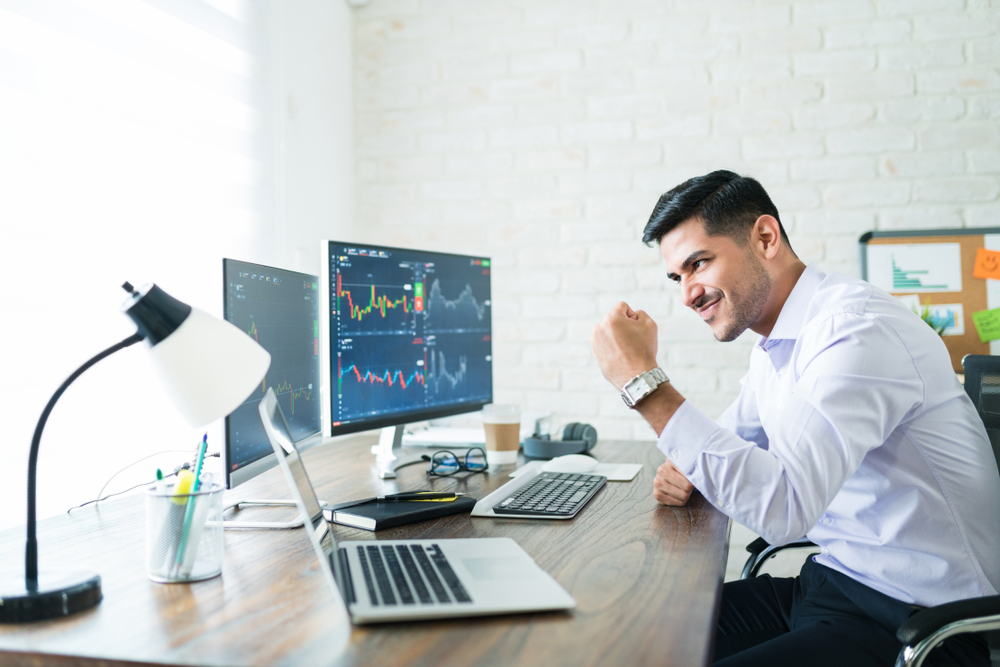 If you have started to learn day trading and become interested in this investment tactic, you have likely come across the $25,000 day trade rule.
According to federal regulations' pattern day trader (PDT) rule, these investors must maintain minimum equity of $25,000 during any trading session that the investor day trades.
Now, a day trader is defined as someone who executes at least three intraday traders on a U.S. securities exchange within five days.
So, does this mean you cannot day trade without $25,000? While it might be challenging to skirt the myriad of pattern day trader restrictions, it is certainly possible to begin day trading with $100. But how? Let's explore!
Best Brokers for Day Trading Without 25k
While it is correct that all brokerage firms are required to report clients who make day trades or partake in unlimited day trading, there are ways to skirt this system, such as maintaining more than one trading account, using the trading hours to your advantage, and participating in swing trading.
Ultimately, when you are employing day trading loopholes, you will want zero-commission platforms that are not part of the major Wall Street brokers.
So, that said, here are the best trading platforms for beginners to initiate day trading with less than 25k:
Robinhood This is a zero-commission trading app that possesses a wide variety of products and services that can help you complete buy and sell orders on a day trading account with less than $25,000.
Wealthsimple (Canada) If you are in Canada, you should definitely consider installing the Wealthsimple app on your mobile phone and begin swing trading on a zero-commission account. For now, it has the bare-bones account features, but it keeps growing. Although it is not specifically designed as one, it can be one of the best penny stock brokers.
HYCM You can always avoid penny stock day trading rules or options day trading rules by participating in foreign markets. This can be done by signing up for global venues, including Henyep Capital Markets (HYCM).
IC Markets This is a terrific online retail broker that provides access to CFDs over stocks, bonds, commodities, and forex in equity markets worldwide, including Asia, Europe, and the Middle East.
Best Markets for Day Trading Without 25k
When you are day trading without $25,000, there are a few markets you should home in on for your investment journey.
Here is a couple you should consider:
Forex
The foreign exchange market works 24 hours a day during the week, with investors trading many different currency pairs, such as the USD/CAD, the GBP/JPY, or the EUR/CHF. A lot of brokers have an account deposit minimum of around $500, so if the forex market leverage is 50:1 ($25,000 in total), you could implement day trading leverage into your overall strategy.
Futures
In the futures market, you could see gains or losses pile up quickly, giving you an adrenaline rush or dread. Indeed, the futures market consists of trading stock index futures or commodities, beginning with capital as little as $500. A single point could be worth as much as $50, meaning that you could achieve that $25,000 threshold by the end of the session.
Other Strategies for Day Trading Without 25K
Aside from trading certain markets, there are various day trading loops you could exploit to ensure that you can navigate your way through the financial arena without being penalized.
Here are some tactics you should consider inserting into your arsenal of tricks:
Three in Five
This measure consists of executing only three day trades in a five-day period.
The primary benefit of this tactic is that you will avoid being penalized by the PDT rule. The disadvantage, however, is that you will need to be selective in trade signals and you will be unable to take full advantage of a proven strategy.
Make Swing Trades That Last Longer
You see upward movement in a share and you buy into the wave. You initiate a position, but rather sell a few hours later or even the next session, you will need to wait a little bit longer to refrain from being designed as a day trader.
This could be a positive route to take since you could extend any gains if the security has some more legs. Unfortunately, the con is that you risk losing any profit you may have had with different price points. The other negative is that you might have gotten in on the swing trade too late, possibly missing out on most of the rally.
Create Day Trading Accounts at Multiple Brokers
You have a day trading account at more than one broker. By doing this, you can complete six day trades in a five-day period. Clearly, you can bypass the PDR signal, but the consequence is that you will have limited capital to employ and your income would not be as immense with multiple accounts.
Launching a Cash Account
You can day trade with a cash account. This means you can make as many trades you want with any amount of money. The only cash is that these funds must be settled. For example, if you have $1,000 in your cash, and you have made a day trade of $300, you can only trade with $700 until the rest is settled.
Put simply, you cannot day trade on margin.
The obvious advantage to this is that you have unlimited day trades and you can buy and sell with a small dollar amount. But if you have gotten serious about investing, the drawback is that you cannot go big on your trades as you will only be able to trade with settled cash.
Mistakes to Watch Out for When Day Trading Without 25K
Indeed, there are many mistakes you can make, whether you are day trading with or without $25,000. Do you want to know what these are? Here are a few things to remember:
Day trade what you can afford to lose, from $1,000 to $25,000.

Possess knowledge of your trading systems so that you can move in and out of positions and accounts.

Do not size your trades too big based on FOMO (fear of missing out).

Avoid trying to rationalize staying with a position longer than you intend.
The Bottom Line: Is Day Trading Under 25K Worth It?
In the end, it is certainly worth it to day trade with less than $25,000 in your account. Indeed, playing "small ball" can certainly afford you many opportunities to earn some extra cash or potentially build an account where there is the chance to have $25,000 to officially day trade. As long as you utilize the methods and do your due diligence, you can be confident that day trading is right for you.