How Much Does a Pattern Day Trader Make?

By

Andrew Moran

Edited by

Joel Taylor
Published February 10, 2022.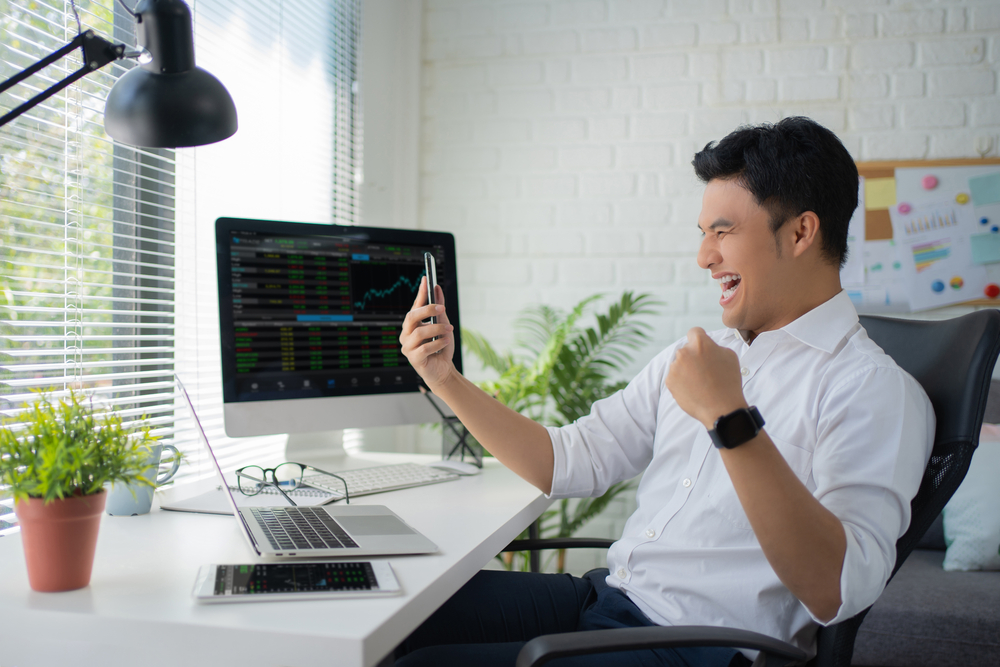 In the last couple of years, millions more people established brokerage accounts to take advantage of a once-in-a-generation selloff in the financial markets amid the coronavirus pandemic. It was an incredible situation for anyone who did not have exposure to equities because you essentially got in on the ground floor.
Once 23 March 2020 arrived, that elevator started to climb.
Because so many armchair traders made money, they became interested in other opportunities to earn a living, including day trading. Many wonder if unlimited day trading is a profitable venture, particularly if you are day trading with a full-time job.
The easy answer is yes, day traders can make money, but it's not as simple as that. Let's explore if day trading with or without $25,000 is worthwhile.
Percentage of Day Traders That Are Highly Successful
Day traders make up a small number of the global financial markets. According to some estimates, profitable day traders account for 1.6% of the market in an average year, while other reports peg the figure at as much as 4%.
Although they represent a small percentage of the financial markets, profitable day traders account for 12% of all day trading activity. Indeed, they are quite active!
Salary of Successful Day Traders
Of course, when you are researching the numbers behind a professional day trader's salary, you will inevitably come across day traders who make millions. While it is certainly possible, and they do exist, it is safe to say that someone making this claim on TikTok is a grifter.
A 2022 Glassdoor study found that the average day trader annual income was about $74,000, but there was a considerable canyon from the average, with some day traders earning a fortune and many losing a lot of money. Other reports found that the top traders with $10,000 accounts might turn a three percent profit each month, but these are the upper echelon of day traders.
Your average independent day trader might generate $750 in a year. Moreover, studies show that most day traders will be on the losing end with a poor profit-loss ratio.
A 2013 study of Taiwanese day traders concluded: "Less than 1% of the day trader population is able to predictably and reliably earn positive abnormal returns net of fees."
A June 2021 study of 1,600 Brazilian day traders learned that only 3% made money after a year, and 1.1% earned more than the nation's minimum wage.
Can You Make a Living From Day Trading?
If you execute four or more day trades of the same investment, be it a stock or a commodity, in five business days, you will be labeled as a pattern day trader.
According to PDT rules, you need an account with $25,000 to continue day trading. Of course, it is entirely possible to be an unconventional day trader with less than $25,000, but you need to utilize zero-commission trading platforms with fewer trades. This is otherwise known as the 25k day trading rule.
Many retail investors will day trade futures contracts or engage in day trading leverage, and financial experts purport that you need to put at least $1,000 into the market to make these endeavors worthwhile.
Futures and leverage are not the only day trading strategies to employ, particularly if you cannot endure substantial losses that could wipe out your brokerage account. You can utilize other assets more conservatively and still enjoy capital gains day trading, such as:
Stocks

ETFs

Commodities

Forex

Indices

CFDs

Cryptocurrency
Meanwhile, based on the data, here is a list of the expected annual income of day traders by percentile:
90th

: $150,000

75th

: $100,000

50th

: $80,081

25th

: $37,500

10th

: $11,000
How Market Choice Influences Day Trading Profit
Let's face it, the finance industry has presented the trader with many different types of stock trading. It is remarkable how much the sector has changed in the last decade alone. From investing on our mobile phones to using the best trading signal providers on the web, there are a plethora of choices that can both help or hurt your day trading journey.
Of course, market choice is great for institutional and retail investors. You want as many choices as possible, no matter how overwhelming it might seem.
You want the option to use multiple chart websites, stock screeners, and zero-commission platforms. This can only enhance your day trading profit as long as you have the knack for spotting patterns and correctly translating the information to your broader trading strategy.
The Bottom Line: Is Day Trading Worth It?
Few people can turn day trading into a profitable occupation.
Every day, there's an abundance of factors driving the financial markets, from headline news to government reports. It takes studying every component in the global marketplace, in addition to taking advantage of charts, technical analysis, and data.
Plus, even if you are fortunate enough to make a decent living as a day trader, there are still the commissions, fees, paperwork (gasp!), and paying taxes on day trading that can eat into your overall profits.
Indeed, after you first turn $1,000 into $1,400, you will feel like you are on top of the world, but you will also feel deflated when that $1,000 turns into $650. This is crucial to remember as emotion will hurt your day trading career, particularly at the beginning.
Put simply, day trading is worth it if you know what you are doing, you have the capital, and you can be unemotional over everything. Just as long as you understand that the odds are not on your side.