Best Brokers for Day Trading in 2022

By

Andrew Moran

Edited by

Kelli Harris
Published February 28, 2022.
Our team independently researches and recommends the best products and services. We publish reviews that are unbiased nor influenced by payments we may receive from advertising partners.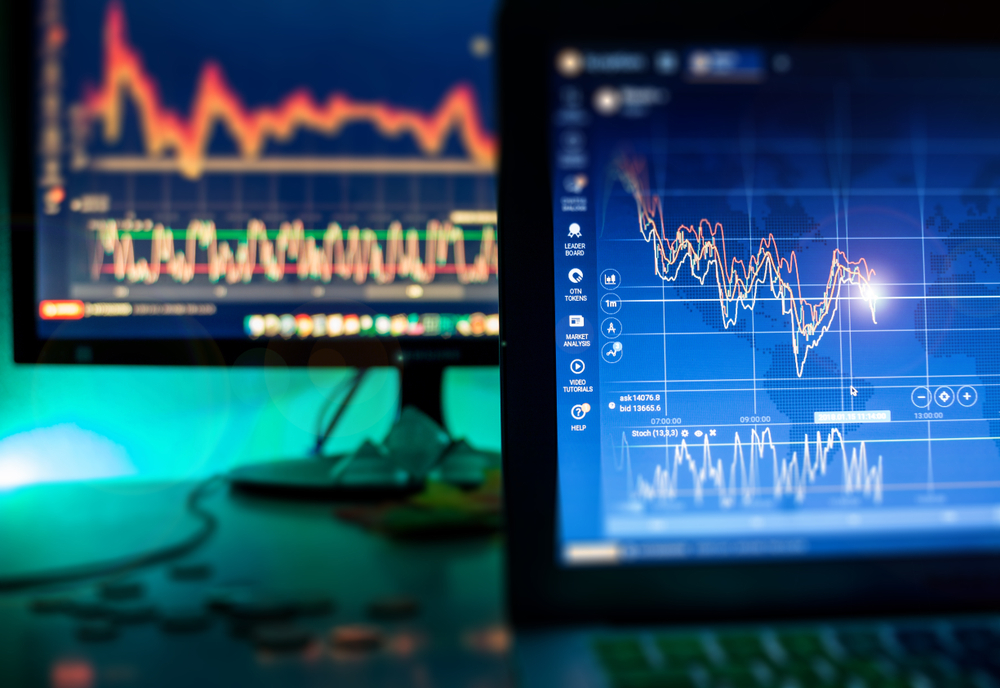 Day trading has exploded in popularity over the last couple of years, buoyed by the growth in armchair investors entering the market at the beginning of the coronavirus pandemic.
Thanks to a historical bull run that allowed anyone with a brokerage account to turn a profit, many individuals have tried their hand at day trading, utilizing everything from technical analysis charts to day trading apps.
Whether you want to enter the game or upgrade your tools, we have compiled a guide of the best brokerages for day trading.
A Quick Look at Our Best Brokers for Day Trading in 2022
Is Day Trading Profitable?
When you sign up with one of the many top brokers for day trading, you will typically come across a statistic warning you that 70 percent, 80 percent, or 90 percent of day traders lose money.
Indeed, it can be challenging to earn a livable wage while day trading, which is why not everyone participates in this investment strategy.
That said, day trading can still be profitable if you possess enough capital, develop a strategy, remove emotion for your trades, and stay the course when you have a plan.
How We Chose Our Brokers
When searching for the best stock broker for day trading, it is imperative to utilize a broad array of criteria to determine the best day trading broker for beginners or the best platform for a seasoned day trading extraordinaire. When evaluating these platforms, we comb through various components for traders of all skill levels. Here is what we assessed:
User experience on the platform

Commissions and fees

Availability of financial assets, trading options, and programs

Quality and availability of customer support

Safety of the trading platform
Broker Reviews' Picks for the Top Brokers for Day Trading
Best overall
Fortrade is possibly the best way to begin day trading. In addition to the terrific platform experience and competitive pricing for trading many different assets, Fortrade also maintains a treasure trove of educational courses, webinars, ebooks, strategies, and glossary of trading terms.
Fortrade is perhaps the best free day trading platform and one of the best forex brokers for day trading. Indeed, take your pick on what you are investing, and Fortrade will be there!
Fortrade Pros and Cons
Great variety
AvaTrade is one of the pioneers behind online trading, be it forex or equities. The website has nearly two decades of experience, offering clients plenty of investment options, tools, and accounts that suit their needs. Is this the best platform for day trading? If you are a beginner, not necessarily. However, it could be another resource to put into your trading toolkit.
AvaTrade Pros and Cons
A low-fee broker
If low fees are one of your chief components in selecting a day trading platform, easyMarkets is right for you. Since it's a CFD broker, you can trade a whole host of investment vehicles, such as forex, cryptocurrency, stocks, and more. With more than 20 years in operation, easyMarkets has satisfied many clients with its competitive pricing and up-to-date user platform.
easyMarkets Pros and Cons
A top global forex broker
While it was initially a digital financial trading website in 2010, IronFX quickly morphed into a one-stop-shop for your forex, CFD, and social trading needs. Whether you are a beginner armchair trader or a seasoned veteran of the business, IronFX is a reliable choice for all of your day trading efforts.
Pros and Cons of IronFX
A dependable trading platform
It is impressive to see that a financial company started a half-century ago is still around and innovating the online financial community. Indeed, Henyep Capital Markets provides clients with terrific trading instruments to enhance their day trading objectives.
HYCM Pros and Cons
Great for copy trading
In recent years, eToro has become one of the most popular global online trading platforms. At first, it concentrated on foreign exchange, but it upgraded its network and began offering multiple assets, with the added touch of copy trading. This is where it can be helpful for first-time day traders who need some guidance and assistance to maximize their positions.
eToro Pros and Cons
Great interface
Plus500 is a highly reviewed and well-trusted global fintech trading platform that offers more than 2,500 financial instruments through its Contracts for Differences (CFDs). While it might not be suitable for novice investors due to its lack of resources, Plus500 can be a reliable alternative when you are not satisfied with another website for your day trading objectives.
Plus500 Pros and Cons
Best for beginners
When you are interested in day trading foreign exchange, commodities, and indices, you might want to consider FXTM (ForexTime). For more than a decade, it has been the go-to source for many budding day traders and other armchair investors who desire the opportunity to profit from active trading and other investment programs.
FXTM Pros and Cons
Most user-friendly
After popping up on the online trading scene in 2013, it has become a growing force in this industry, driven by its premier award-winning mobile trading app and suite of forex, stock, ETF, and options trading products. With its mobility and product selection, IQ Option could be a top day trading broker.
IQ Option Pros and Cons
Best for experts
Trade360 might not be a reliable trading tool on your smartphone, but it is still a decent investment hub for CFD, forex, and commodities trading. It is an appealing online trading platform because of its CrowdTrade, a live, real-time feed of market events. It also maintains a sentiment indicator, which can help you determine how others view the stock market.
Trade360 Pros and Cons
The Final Verdict: Which Broker Is the Best for Day Trading?
A quick Google search will yield many pages of brokers offering the best account for day trading. Knowing which one is truly exceptional and tailored to your needs can be challenging. In our opinion, Fortrade or Trade360 would be the top brokers for day trading because of their easy-to-use platform, low fees and commissions, and impressive portfolio of products.