Long Term Microsoft Stock Investment: The Pros and Cons

By

Andrew Moran
Published September 27, 2021.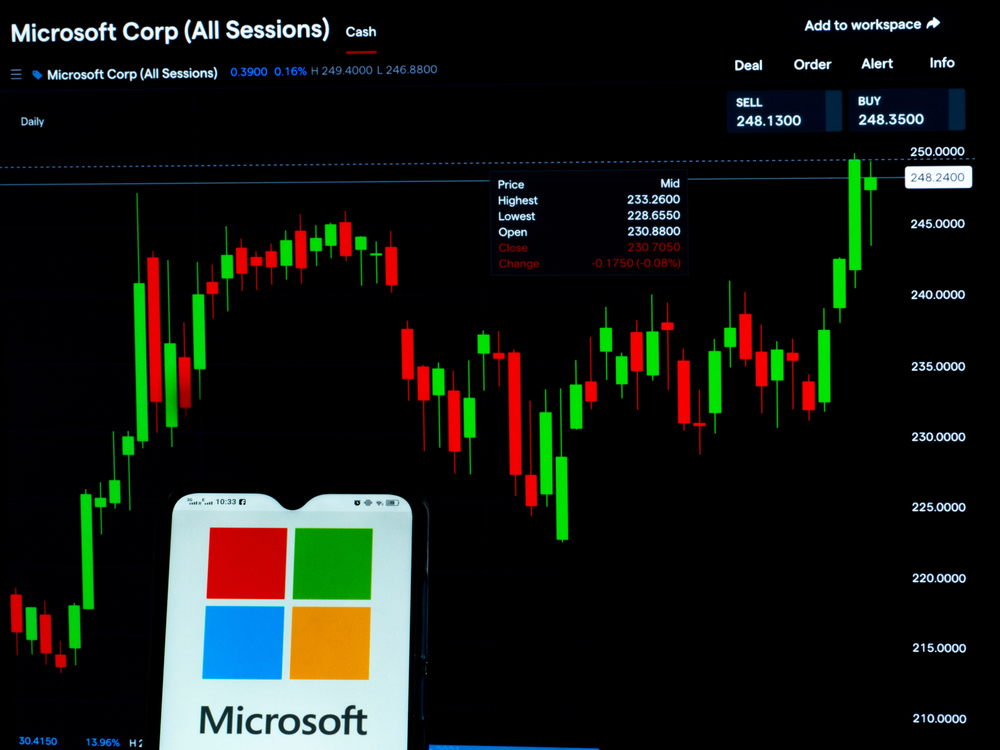 Microsoft Corporation (MSFT) is one of the most successful companies on the planet, with a market capitalization rate of about $2.25 trillion. The stock is as impressive as the organization, trading at an all-time high of around $300 and maintaining a quarterly dividend of $0.62 a share. Microsoft is certainly a top-notch security and of the few growth stocks to have in your portfolio that can offer solid long-term capital gains and a regular income.
That said, like any other investment on the New York Stock Exchange, Microsoft does have its own set of pros and cons. What are they? Let's explore!
Pros of Investing in Microsoft Long-Term
Microsoft Has Great Value
The primary supporting factor in owning the technology juggernaut is its valuation. It is only one of two businesses to possess a $2 trillion-plus market cap (the other being Apple). When a company is this immense, it is challenging to bet against it. To put its stock's success into context, if you had $1,000 and you were investing in Microsoft in 2011, it would be worth $12,000 today!
Maintain a Steady Corporate Leadership
The corporate leadership has been steady, with only three chief executive officers since Microsoft was founded in 1975, with Bill Gates serving in this position for 25 years. Although it is widely considered that the Steve Ballmer years were the dark days of Microsoft, Satya Nadella has been doing a remarkable job as his tenure has seen the tech titan outperforming Wall Street expectations because of its move into cloud computing and Software as a Service (SaaS) and its improvements in the operating systems (many shudder at the idea of Vista!).
They Secure Lucrative Contracts
Microsoft's contracts with the government have been lucrative. The most recent agreement was a $10 billion cloud contract with the Pentagon, choosing Microsoft software over Amazon and its Amazon Web Services (AWS). It would make sense, too, since Microsoft and Johnson & Johnson are considered lower default risks than the United States government! This explains why shares keep rising.
Microsoft Is the King of Dividends
One of the best methods of determining a corporation's success is by studying its dividend. Microsoft has been a dividend king for years, routinely increasing its quarterly payments, even during the coronavirus pandemic when it gave it a nickel boost, from $0.51 to $0.56.
Cons of Investing in Microsoft Long-Term
Is Microsoft overvalued? This is one of the chief questions that new investors are asking before they pick up shares of the company.
Stagnating Price-Earnings Ratio
By looking at the price-earnings ratio (P/E ratio), it has stagnated this year, trending in the 37 range, which is way down from the peak of 60 at the start of 2018. Still, investors do see some growth, but not as much as in previous years. The price-earnings growth ratio (PEG ratio) is 2.25
These readings are higher than the S&P 500. On the surface, this is great. But once you scratch beneath the surface, you start to wonder if a two-trillion-dollar firm can maintain growth at a quick enough rate to justify these measurements.
Rising Technology Competition
Another risk that is minuscule but still something to watch out for is competition. If a competing tech giant makes tremendous strides in quantum computing, artificial intelligence, or cloud engineering, Microsoft could lose out on market share.
Conclusion: Is Microsoft a Good Long-Term Stock to Buy in 2021?
Investing in equities, no matter what it is, will always involve a risk vs reward element. Despite Microsoft's meteoric ascent over the last year, there is plenty of uncertainty regarding the future of the stock. From volatility in the broader financial markets to equities like Microsoft being able to sustain the momentum, many traders - seasoned and novice - would stand back and be wary of buying shares in a stock that is trading way above all-time highs.
Will Microsoft always be a cash cow? If you are buying the company strictly on dividends, you will have found the golden chalice by holding long-term. However, if you are seeking capital gains with a short-term investment strategy, adding Microsoft might not be a wise decision for your portfolio.