TradingView: Real-Time Data, Best Brokers, Alternatives and More

By

Filip Dimkovski
Published October 30, 2021.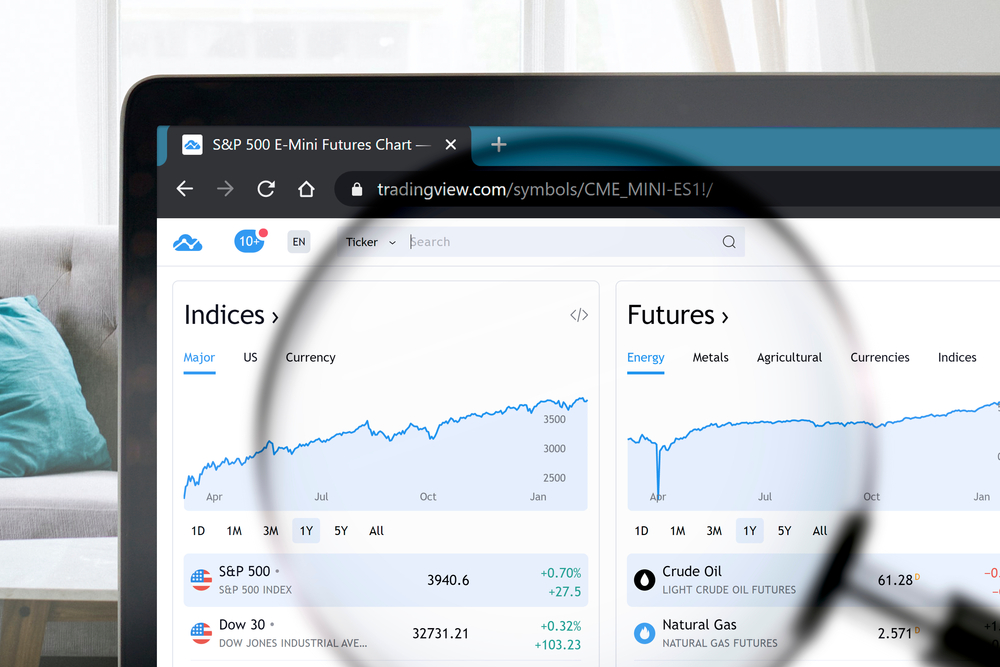 Being one of the most extensive charting platforms for traders, TradingView is an excellent market analysis tool currently available with many unique features. On the TradingView website, you'll have access to many useful instruments, like pre-loaded scripts and detailed formulas. You could even create your own strategy with the tools you have at your disposal. Continue reading if you'd like to learn more about it.
Is TradingView Trustworthy?
Yes, TradingView is a trusted online stock analysis tool suitable for both novices and experienced traders. The trading platform has many charting tools you could use for research and allows its users to communicate and cooperate with each other.
Is TradingView Safe and Reliable?
TradingView is a safe and reliable charting and social networking tool. After finishing your registration process, a free account will provide access to basic graphing, research, and analytical information. However, since just a few brokerages are currently linked to TradingView, most trades must be executed outside of the platform.
Can You Trade On Tradingview?
Yes, you can trade on TradingView, but only through your broker. Before you sign up for an account, TradingView provides various market data right on the homepage. A ticker for the EUR/USD, BTC/USD, and ETH/USD currency pairs, as well as the Dow, Nasdaq, and S&P 500, are all located in your view. You could either trade these assets directly or simply use the information you have to trade them at your broker.
How To Trade Directly on TradingView
TradingView primarily works with brokers to execute trades. Still, you can buy and sell on TradingView with its Paper Trading simulator, where trades are simulated on their servers, and no broker account is required. However, we recommend sticking to a broker and using a platform similar to TradingView for your analysis.
Best Browser for TradingView
TradingView works on most modern browsers. Just make sure you have your software updated to the latest version, and you'll have no problem using it.
Consider using the following browsers:
Chrome

Firefox

Safari

Internet Explorer 11

Microsoft Edge
How Much Does It Cost to Trade On Tradingview?
The pricing plan at TradingView is simple. Although TradingView Basic is free, the Pro-Versions range from $14.95 to $29.95 per month.
Traders who want to screen even more markets can pay up to $60 per month for TradingView Premium. Keep in mind that a 16% discount is available on a yearly subscription.
Of course, the free edition is a great place to start at. Then, the monthly membership is the most cost-effective option once you've decided that TradingView is the right choice for you. You'll be more versatile this way, even if you need extra features which come with the higher-priced plans.
What Brokers Work with TradingView?
In the following list, you can find the best broker for TradingView that's also suited for your needs:
TradeStation

FOREXcom

FXCM

Alpaca

eToro Trading View

AMP

EZMarkets
If none of the mentioned brokers are available in your country, consider contacting TradingView customer support or check for more details on their website.
Best TradingView Alternatives
MetaTrader
MetaTrader 4 and 5 are the most widely used trading platforms, allowing you to trade Forex, stocks, futures, and cryptos. It provides enhanced technical and fundamental price analysis tools, automated trading systems (trading robots), and copy-trading (trading signals).
TradingView vs. Investing
TradingView is great for charting, but Investing.com is a website primarily used for predicting the market and spotting prices before the market opens. Still, TradingView is a far superior tool when compared to Investing, simply because it has better tools.
TradingView vs.Stockcharts
Stockcharts is a convenient tool you can use to track and predict the market, but it doesn't come near the same level as TradingView. In addition to being lackluster in features, charting and tracking the market is more difficult than at TradingView.
Alternatives of TradingView for Crypto
Good Crypto
Good Crypto allows you to trade on more than 30 of the world's top cryptocurrency exchanges either through the website or app. In addition to basic charting formulas, you can use advanced trading tools like complex order types, portfolio tracking, intelligent alerts, and trade automation. Although Good Crypto is good, it's not one of the best apps like TradingView.
Protrader
Protrader is an excellent crypto trading and analysis platform used mostly by experienced traders. The trading platform offers a diverse set of tools you can use, but many regard it as not being beginner-friendly.
Is TradingView Worth It?
If charting and technical analysis are what you are looking for, then TradingView is definitely worth it. Although TradingView is one of the best low-cost web charting platforms, there are other alternatives primarily designed for experienced traders, like ProTrader and MT4.