Uphold 2022 Review: Safety, Fees, Pros & Cons, and More

By

Andrew Moran

Edited by

Joel Taylor
Published February 23, 2022.
Our team independently researches and recommends the best products and services. We publish reviews that are unbiased nor influenced by payments we receive from some of the app developers.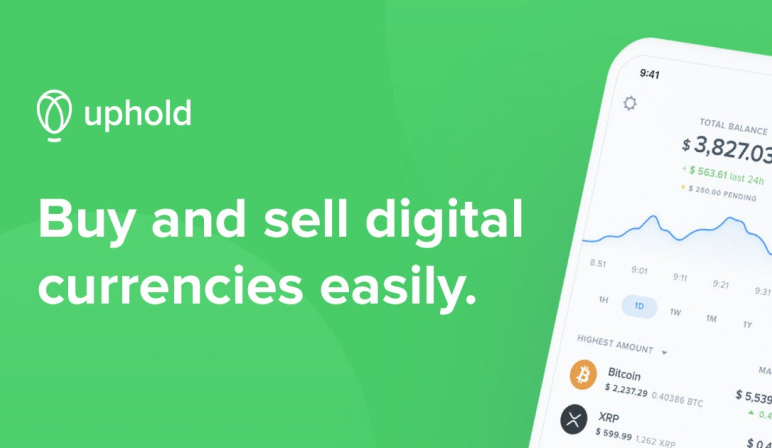 Well, you can hop on the virtual token bandwagon with Uphold, a cloud-based and multi-asset financial service platform that allows users to buy, sell, hold, and trade cryptocurrencies in a secure manner.
You can also complement your crypto portfolio with national currencies, equities, and precious metals.
What else is there to know about Uphold?
Read on to our detailed review of everything there is on offer.


Pros
Highly secure trading platform

No withdrawal and deposit fees

No trading commissions

Reliable mobile app

Top-notch customer support

Accounts designed for businesses

Offers wide selection of assets
Cons
High spreads

Expensive wire transfer

Lack of educational resources

High debit or visa card fee
Who Uphold Is Best For
Is Uphold, a platform that launched in 2015, for beginners or seasoned veterans of the business?
While it is true that Uphold could be a tad bit more user-friendly, it is a terrific option for investment novices. Considering that it is also a safe platform with several layers of security, from cold storage to platform insurance, this can enhance investors' confidence.
Uphold's resources are decent enough. For trading, you can utilize automated trading with a recurring buy or sell order, limit orders, and taking. For information, Uphold maintains newsletters, a "cryptionary," and news to help make the right decisions.
Available Markets on Uphold
What makes Uphold attractive compared to other cryptocurrency trading platforms is that it contains a broad array of assets, such as metals, equities, and foreign exchange.
That said, on the crypto side, it possesses 78 digital currencies, including the major tokens, altcoins, stablecoins, and emerging currencies. It also routinely adds a couple to its list.
Here is a taste of what you will find on Uphold:
Algocoin (ALGO)

Avalanche (AAVE)

Basic Attention Token (BAT)

Bitcoin (BTC)

Cardano (ADA)

Chainlink (LINK)

Dogecoin (DOGE)

Ripple (XRP)

Shibcoin (SHIB)

Solana (SOL)

SushiCoin (SUSHI)

Uniswap (UNI)
Uphold App Review
The web-based trading functions on Uphold are quite good. Everything is organized and, with a little practice, it can come easy to traders of all skill levels.
The mobile app, which is available for the iOS and Android, has also been well reviewed by users, earning at least three stars (out of four) on Google Play and the App Store.
It has been celebrated for its usability and straightforward options. The primary complaints from investors are the length of time to move crypto to other cold wallets (65 days) and hiccups in the automated system. Also, accounts under review can take up to five days.
Uphold Security
Security has been perhaps the most important component for traders amid the myriad of breaches and infiltrations impacting cryptocurrency-focused exchanges and platforms, but Uphold has been proactive on the safety and security front.
Here is a look at what Uphold has done to ensure its website cannot be hacked by unscrupulous individuals:
2FA

Bug bounty program

Cold storage

Platform insurance against theft

Private key encryption
Moreover, Uphold employs professionals to run security audits and penetration tests of the overall system, including a typical wallet review. Even the team behind Uphold goes through rigorous background checks, with employees required to go through regular security and privacy training.
One more thing: Uphold has FDIC + SIPC insurance!
Uphold Fees
The fees are not as competitive as some of the larger players in the sphere.
For example, variable spreads can be up to 1.25% in the U.S. and Europe - it goes as high as 1.8% in other parts of the planet. In comparison, a platform like Coinbase can see spreads up to 0.5%.
For U.S. equities, the spread is about 1% during market hours (9:30 a.m. to 4 p.m.). If you are trading outside of U.S. market hours, there will be a small spread based on the security's volatility.
Precious metals will face a spread of 3% in addition to the bid-ask prices, while fiat currencies (USD, EUR, and GBP) will see a spread of 0.2%.
That said, it does not charge deposit and withdrawal fees or trading commissions, but it maintains network fees when you withdraw to external cryptocurrency wallets, plus there is a 3.99% charge for a credit card and debit card (physical and virtual).
Uphold has two accounts: personal trading and business.
Personal accounts give you access to the various assets provided by Uphold, as well as interest account offerings. Business accounts allow you to send and receive payments, store your funds for free, and access international customers. Plus, currency conversion costs are pretty low.
Uphold Overall Rating: 4.2/5
Overall, Uphold is a terrific resource for buying, selling, trading, and holdings assets, be it cryptocurrencies or metals. The platform has a myriad of features and tools to complement your broader strategy and ensure you are successful in your investing journey-supported metals, assets, and spreads.
With a wide selection of cryptocurrencies, a terrific customer support system, and top-notch security, using Uphold can be a worthwhile addition to your investment endeavors.